Tomorrow will be here before you can say, "Succession Plan."
In the following video, Mark explains the benefits of Key Life Insurance policies, which protect the business in the event of a loss of a key company employee. He reviews the different types of plans and how to use numerous factors to determine which is best for an individual company.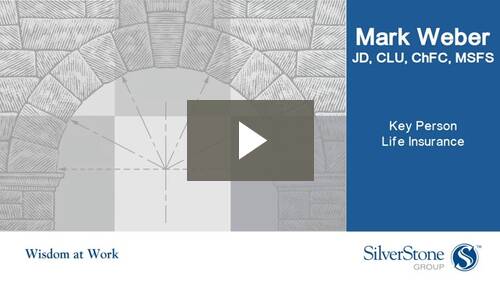 Business owners who want to preserve assets for future generations, minimize taxes and fairly compensate key executives can rely on SilverStone Group to develop a plan for the orderly succession of their businesses. This requires dealing with many complex issues.
How do you resolve conflicts that may arise between family members who are active in the business and those who are not?
How do you select the most qualified candidates to lead your business?
Will the necessary liquidity be there in case of a buyout of a partner's share?
What effect would the death or disability of a key employee have on revenues?
How do you get maximum performance out of your management team?
SilverStone Group can help you formulate a business continuation plan to address these issues using proven tools such as buy-sell agreements, key-person insurance and disability income insurance.
Mark Weber discusses the importance of planning when creating and maintaining successful small businesses. The video summarizes good business planning through the three types of Buy-Sell Agreements (Stock Redemption, Cross Purchase and "Wait and See"). It also explains how cash from life insurance can be used to execute the agreements.